Sponsors
Jaycee Admin Login
We have 255 guests online
For over 90 years, Jaycees have been a force for good in America and around the world. Jaycees helped establish AirMail services in America with Jaycee Charles Lindbergh, and have raised millions of dollars for causes such as the Muscular Dystrophy Association and the March of Dimes. Your Home Town Lake Geneva Jaycee's have been hard at work for almost 52 years now!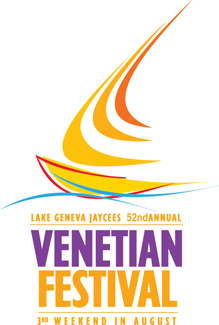 2014 VENETIAN FESTIVAL 52nd Annual
Created by and Sponsored by Lake Geneva Jaycees - since 1962
Days of Operation
August 13th through August 17th, 2014
Wednesday - Friday 5pm to Midnight.
Saturday & Sunday Noon to Midnight.
Location: Flat Iron, Seminary and Library Parks - Lake Geneva, WI.

Last Updated ( Wednesday, 05 March 2014 17:54 )
Read more...
| | | | |
| --- | --- | --- | --- |
| Jaycees help with new Disc Golf Course | | | |

Written by Administrator

Wednesday, 18 December 2013 10:17

The Lake Geneva Jacyees recently assisted the City of Lake Geneva by working on the new disc golf course this weekend. The Jaycees had roughly 30 guys in attendance. 17 loads truck loads of wood were hauled out of the area.  A lot of progress was made on clearing the path, bridges, around the baskets and T-pads along clean up of the big trees.

Approximately 120 man hours were donated to the City of Lake Geneva. To read more about the Jaycees help and the Disc Golf Course visit the Regional News.

Last Updated ( Wednesday, 18 December 2013 10:36 )