Sponsors
Jaycee Admin Login
We have 379 guests online
Be part of a winning team.   Learn leadership skills, network with local professionals. Make new friends and best of all, help make your community great. For more information about becoming a member, click here.
| | | | |
| --- | --- | --- | --- |
| Local Cheer Club Donation | | | |
Monday, 21 March 2016 08:42
Lake Geneva Jaycees donate to local Cheer Club

The Lake Geneva Jaycees are at it again in 2016!! The Jaycees donated $1000 to Bayside Athletics, so that they may provide scholarships for its cheer and tumbling classes.
The main purpose of the organization is to develop young athletes spiritually, mentally and physically through the sports of cheerleading and tumbling no matter what their social or financial situation.
The cheer and tumbling programs are developed for youth ages 3-18 and special needs athletes from age 5 to adult. They are proud to serve Walworth County and its surrounding areas. They hope to positively impact the athletes and their families through the sports of cheer & tumbling.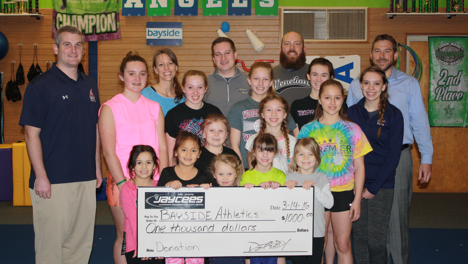 (Pictured back row – Ryan Stelzer, Jessica Viss Director of Bayside, Bryan Iwicki, Ryan Lasch and Josh Spiegelhoff front rows, youth of the Bayside Athletics program) The Jaycees are proud to be able to support this local program that serves youth of all ages and abilities.
Date: May 14th, 2016

The Lake Geneva Jaycees are proud to announce that this years Sand Box Fill will take place on Saturday May 14th. If you would like us to fill your sand box,  you can fill our online Request Form to give the location of your sand box and the Jaycees will come and fill your sand box. Sand provided by Otto Jacobs

Read more...

| | | | |
| --- | --- | --- | --- |
| Safety Town 2016 Registration | | | |

Lake Geneva Jaycees and

Geneva Lake's Women's Association

are proud to sponsor Safety Town 2016.

Safety Town will be held from June 6 through June 10 at the Lake Geneva Middle School, 600 Bloomfield Road, Lake Geneva, WI. Your child must be entering 5K kindergarten to attend. Each session will be closed at 40 children. A confirmation letter will be mailed to you approximately two weeks prior to the session.

Read more...