Sponsors
Jaycee Admin Login
We have 659 guests online
We have built parks, playgrounds, hospitals, ball fields, and housing for the elderly while conducting service and support programs in thousands of communities nationwide. Come join us  today!
| | | | |
| --- | --- | --- | --- |
| Lake Geneva Jaycees give back to Badger Youth Wrestling Club | | | |
Young wrestlers received a much needed donation to upgrade wrestling gear.  In an effort to fundraise the Badger Youth Wrestling program held a fundraiser at Tuscan Restaurant in Lake Geneva to fund new uniforms.  The team was able to raise funds in the amount of $2,375.  The Lake Geneva Jaycees matched that amount, with a donation, so that the team was able to make the purchase, providing the team with matching uniforms for their meets and replacing uniforms that were not up par.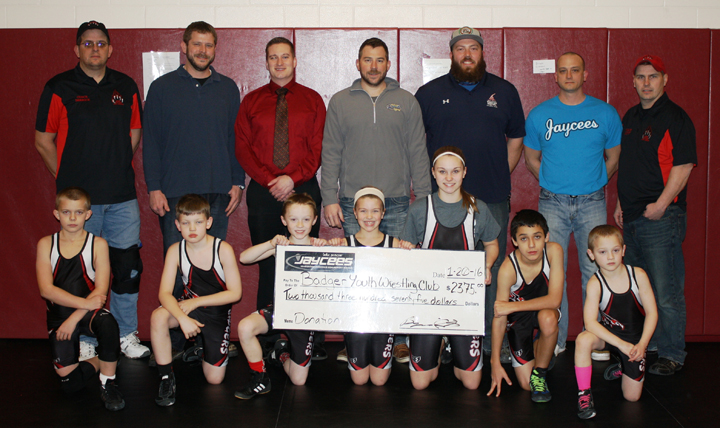 (Pictured  back row - Coach Derrick, Luke Spiegelhoff, Bryan Iwicki, Josh Spiegelhoff, Ryan Lasch, Mike Hayes and Coach Scott; front row – Youth of the Badger youth Wrestling club)
The Lake Geneva Jaycees are proud to support the community and giving back to the future of our community in efforts such as these.  The Jaycees hold several fundraising events every year, in the Lake Geneva in order to do just that.  If you would like more info on the Lake Geneva Jaycees please visit us online at www.Lakegenevajaycees.org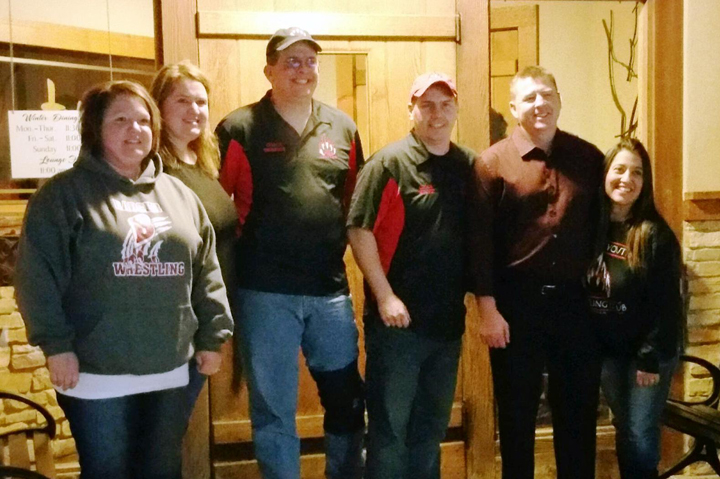 (pictured Badger Youth Wrestling Club Board Members and Owner of Tuscan Restaurant of Lake Geneva)
Last Updated ( Tuesday, 09 February 2016 13:19 )
| | | | |
| --- | --- | --- | --- |
| Easter Egg Hunt 2016 General Information | | | |

Written by Administrator

Friday, 12 February 2016 00:00

The Lake Geneva Jaycees Annual Easter Egg Hunt is set for Saturday March 26, 2016.  The Hunt will begin promptly at 10:30AM.  Event information and age groups are listed below.  This event takes place rain, snow or shine.  Please be sure to dress appropriately.  We have a great raffle for Baskets at the end of the hunt. McGruff the Crime Dog is set to make an appearance as well.  Best of all, the Easter Bunny himself will be there too!  See  you all soon!

Last Updated ( Friday, 12 February 2016 15:44 )
Read more...

| | | | |
| --- | --- | --- | --- |
| Lake Geneva Jaycees Awards Presented by JCI WIsconsin | | | |

****************************FOR IMMEDIATE RELEASE*********************************

Mishicot, WI – 2/8/2016

Members of your Lake Geneva Jaycees attended the Annual State Convention of JCI WI (Junior Chamber International of Wisconsin), February 5th-7th in Mishicot, WI.  In all, 10 members represented the Lake Geneva Chapter, which is the largest chapter in the State of Wisconsin.  The club earned 9 individual awards and 3 Chapter awards for their contributions and impact in the community in which they live, love and serve:  Lake Geneva. 

The Lake Geneva Jaycees were presented with the following awards:

Josh Spiegelhoff - Most Outstanding Local Chapter President, Year End 2015

Doug Bartz – Most Outstanding Local Chapter Vice President, Year End 2015

Ryan Lasch – Most Outstanding Chapter Vice President, Second Half 2015

Ryan Stelzer – Most Outstanding Local Chapter Member, Year End 2015

Bryan Iwicki – Outstanding Local Chapter Treasurer, Year End 2015

                                      Presidential Medallion "The Jaycee Medal of Honor"

Chad Bittner – Outstanding Local Chapter Member, Second Half 2015

Chris Zegarra – Outstanding Local Chapter Secretary, Second Half 2015

    Outstanding Local Chapter Secretary, Year End 2015

Pig Roast – Outstanding Local Chapter Project, Year End 2015, Ryan Lasch Chair

Ducktoberfest – Outstanding Local Chapter Project, Second Half 2015, Dave Bergmann Chair

Lake Geneva Jaycees – Year to Date Growth, growth of +10 in 2015 – The Entire Club!!

All of this would not be possible without the hard-work and dedication of each one of the 89 members (and still growing) of the Lake Geneva Jaycees.  Leadership at JCI WI was very impressed by the accomplishments of the entire chapter.  The leadership of other chapters around the State wonder what our secret is to growth and how we have a record impact in our community.  The answer is easy:  We are a family, we love the club and the community, and we "Live Our Dream!"

For more information on the Lake Geneva Jaycees, our impact in the community, fundraising events or how to become a member please visit www.lakegenevajaycees.org