Sponsors
Jaycee Admin Login
We have 202 guests online
Be part of a winning team.   Learn leadership skills, network with local professionals. Make new friends and best of all, help make your community great. For more information about becoming a member, click here.
| | | | |
| --- | --- | --- | --- |
| Badger Workout Club Donation | | | |
Tuesday, 26 May 2015 00:00
In another sign of support for the future leaders of the Lake Geneva community, The Lake Geneva Jaycees donated $1000.00 to the Badger Workout Club.  It is the mission, that members of the Badger Workout Club will obtain a high level of physical fitness, a greater sense of community, and deeper understanding of personal responsibility and potential.  The Jaycees are proud to support Mr. Giovingo and all of the kids that take part in this after school club.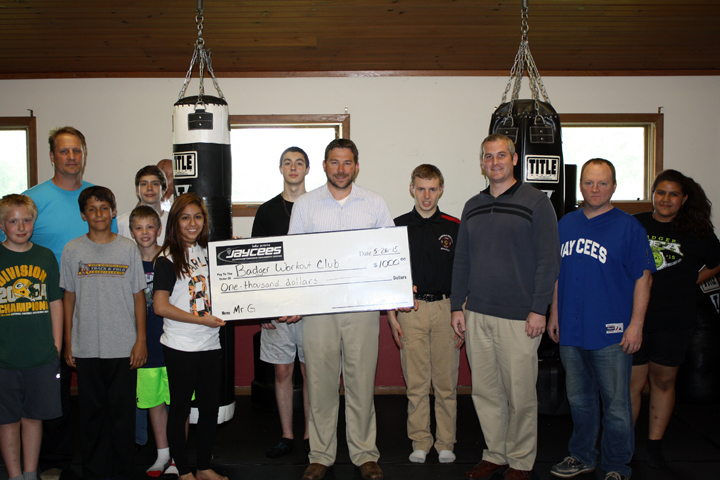 (Back row left to right Mr. Mike Giovingo, John Hendrick, Kevin Looze.  Front row Jared Samonig, Bradlee Shea, Elijah Giovingo, Calix Denny, Rocio Millan, Josh Spiegelhoff, William Kubala, Ryan Stelzer, Colin Cummings, Vania Aguado-Vazquez and Gonzalo Aranda)

Last Updated ( Wednesday, 27 May 2015 09:04 )
Read more...
Sand Box Fill 2015 a Success!


Lake Geneva, Wisconsin, May 9, 2015 – The Lake Geneva Jaycees,  are at it AGAIN!!  Saturday, May 9th was the annual Sandbox Fill.  This long standing tradition is a staple for the Lake Geneva community.  The Jaycees' that organize this event, every spring, run an ad in the Lake Geneva Regional News and anyone in the community can apply via the Lake Geneva Jaycees website.  Donations are accepted at the time of the fill, so that the Jaycees can extend possible donations to other community organizations.

 

(left to right Eric Burt, Ryan Stelzer, John Bouhl, Colin Cummings, Brandon Stevenson)

(left to right Jeff Stahulak, Brandon Stevenson, John Bouhl, Collin Cummings, Ryan Stelzer, Eric Burt, Josh Speigelhoff)

Read more...

Lake Geneva Jaycees 21tst Annual Venetian Festival Arts & Crafts Fair




 Dear Crafters,

The Lake Geneva Jaycees would like to invite you to our 21st Annual Venetian Festival Arts & Crafts Fair. Venetian Festival draws thousands of tourists and locals to downtown Lake Geneva. This outdoor Craft Fair is Saturday, August 22nd and Sunday, August 23rd, 2015 at Library Park overlooking our beautiful lakefront. Spaces are $140 each, 10 ft. x 10 ft., sunny, grass, and may be gently sloped. Tenting is recommended, there in no electricity, and fair is held rain or shine.

Last Updated ( Thursday, 14 May 2015 09:13 )
Read more...

2015 VENETIAN FESTIVAL 53rd Annual

Created by and Sponsored by Lake Geneva Jaycees - since 1962

Days of Operation

August 19th through August 23rd, 2015

Wednesday - Friday 5pm to Midnight.
Saturday & Sunday Noon to Midnight.

Location: Flat Iron, Seminary and Library Parks - Lake Geneva, WI.

Last Updated ( Friday, 19 June 2015 14:03 )
Read more...

Purchase a piece of history!

50th Anniversary Venetian Festival Posters - LIMITED PRINTS!

 "Lake Geneva Jaycee's '50th' Venetian Fest artwork specially designed by our very own Neal Aspinall"

The colored 5-coat ink poster prints by Neal Aspinall are 18" x 24" horizontal on heavy stock paper for only $30.00

Your print will be shipped to you in a crush proof mail tube via USPS.  We accept all major credit cards and Paypal.
<<

Start

<

Prev

1

2 Next > End >>


Page 1 of 2