Walworth County Special Olympics Donation
The Jaycees are at it again!
Just one day before Venetian Fest, Betty Aguirre and the Walworth County Special Olympics held their annual pig roast fundraiser at Champs Sports Bar & Grill. Record numbers showed up to support this amazing cause. LeRoy Butler was in attendance to sign autographs and take pictures as well. To show their appreciation, the Lake Geneva Jaycees presented Betty with a Lifetime Achievement Award for her over 40 years of devotion to the cause.
Thanks Betty!!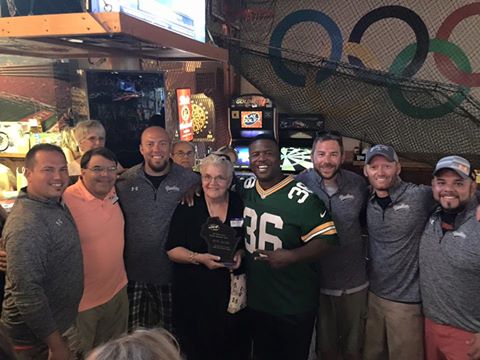 (From left to right: Doug Bartz, Jamie Aguirre, Ryan Lasch, Betty Aguirre, Inventor of the Lambeau leap – Leroy Butler, Josh Spiegelhoff, Nate Love, and Chris Zegarra)