Reek School Club Donation
The Lake Geneva Jaycees were proud to present a donation of $500 to the Reek Elementary School Club.
The Reek School Club is fundraising to replace playground equipment that is over 30 years old!  The new equipment will be safer, accessible and friendlier to all students. The Jaycees, in our tradition to helping support youth of the Lake Geneva Area, know that this investment will help our local area by providing a better school environment and contribute to building strong leaders for future generations.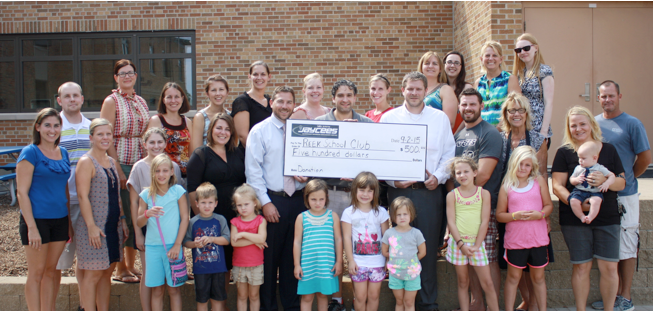 (Jaycees President Josh Spiegelhoff, Chad Bittner, Luke Spiegelhoff, and Hank Peters present the donation check to Faculty, Students and Parents of Reek Elementary School.)
You too can support this effort by contributing to the Lake Geneva Jaycees!  Community involvement and building strong leadership skills are the core principles of your Lake Geneva Jaycees.