Safety Town 2014 Registration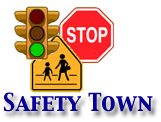 Lake Geneva Jaycees and
Geneva Lake's Women's Associatio
n
are proud to sponsor Safety Town 2014.
Safety Town will be held from June 23 through June 27 at the Lake Geneva Middle School, 600 Bloomfield Road, Lake Geneva, WI. Your child must be entering 5K kindergarten to attend. Each session will be closed at 40 children. A confirmation letter will be mailed to you approximately two weeks prior to the session.
Registration forms have been delivered to all area schools and day care centers or contact Trish
email: pars@genevaonline.com
GLWA Website: http://www.glwa.net

Registration fee is $35.00
Click here to learn more about Safety Town.