Jaycee Profile: Boxer Larry Holmes
December 9, 1979 Larry Holmes, the heavy-weight boxing champion received an award from the United State Jaycees as Outstanding Young Men of the Year!   
Holmes was the fourth of twelve children born to John and Flossie Holmes. When the family moved to Easton in 1954, Holmes' father went to Connecticut, where he worked as a gardener until his death in 1970. He visited his family every three weeks.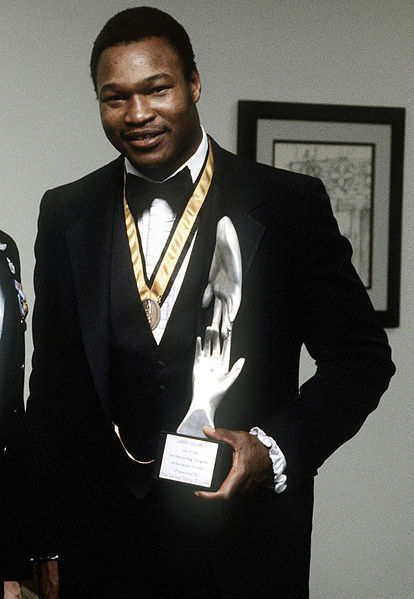 Holmes started boxing at 19. In his twenty-second bout, he boxed Duane Bobick in the 1972 Olympic Trials. Holmes was dropped in the first round with a right to the head. He got up and danced out of range, landing several stiff jabs in the process. Bobick mauled Holmes in the second round but couldn't corner him. The referee warned Holmes twice in the second for holding. In the third, Bobick landed several good rights and started to corner Holmes, who continued to hold. Eventually, Holmes was disqualified for excessive holding.
Holmes would later go onto be WBC Heavyweight Champion of the world. On October 2, 1980, at Caesar's Palace in Las Vegas, Holmes defended his title against Ali, who was coming out of retirement in an attempt to become the first four-time World Heavyweight Champion. Holmes dominated Ali from start to finish, winning every round on every scorecard. At the end of the tenth round, Ali's trainer, Angelo Dundee, stopped the fight.[9] After the win, Holmes received recognition as World Heavyweight Champion by The Ring magazine.
Holmes invested wisely the money he earned from boxing. When he initially retired from boxing, Holmes employed more than 200 people through his various business holdings. In 2008, it was reported that he still owned two restaurants and a nightclub, a training facility, an office complex, a snack food bar and slot machines. Holmes currently co-hosts a talk show on Service Electric Cable 2 Sports called "What They Heck Were They Thinking?" The Show started in 2006 and is currently on its sixth season. His co-host on the show is long time announcing partner Mike Mittman. "What They Heck Were They Thinking?" airs Monday nights at 8:30pm on 2 sports.
Larry Holmes embodies the fighting spirit of Jaycees and the leadership skills it takes to survive and grow in life.
Source Wikipedia