Christmas Generosity 2010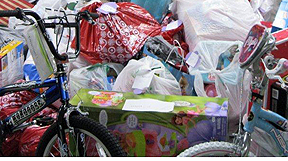 Each year the Lake Geneva Jaycees donate several thousand dollars in order to purchase gifts for needy families throughout our community.  Our annual Christmas Generosity Event takes place in December.  Jaycee members along with their families shop for needy families at area stores. We purchase both clothes and toys for needy children and that's just where the fun begins.  
The Jaycees have a wrapping party once all the shopping is done.  All the presents are carefully wrapped and tagged by Jaycees and their families. Finally the Jaycees then deliver the presents to area families in need.  
Pictured below is are all the gifts for the kids. The Lake Geneva Jaycees Christmas Generosity Program takes place in conjunction with Headstart and a generous donation from People's Bank and help from their employees.  The Jaycees bought gifts for over 150 kids in Lake Geneva and Elkhorn.  Over $5000.00 worth of clothes and toys were delivered this year.
"The coordinator for headstart literally had tears when he saw the amount of gifts we had for him to pick up (maybe because they have to wrap them all)." Said Jaycee Treasurer and Christmas Generosity Chair Ryan Stelzer.   "This part of christmas generosity was a huge success!  Lets finish the rest of christmas generosity on a high note!"
Pictured from left to right, Sarah Leonard, Jaycees Treasurer Ryan Stelzer, Director David Broaden, Kris Baxter, Jaycee Christmas Generosity Chairs Hoss Rehberg and Bryan Iwicki.