Easter Egg Hunt 2010 General Information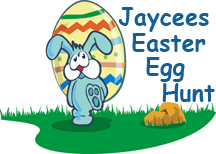 The Jaycees Annual Easter Egg Hunt is just around the corner. Saturday April 3, 2010 is tenatively set for the Hunt. For more information about the Easter Egg Hunt location and times, please contact the Chairs Jason Eck and Ryan Peck. As always, I am sure help would be appreciated, so if you have time, please be sure to let Jason Eck and Ryan Peck know that you are available to lend a hand!
This years chairs are Jason Eck and Ryan Peck
Event Information

Date: Saturday April 3rd, 2010
Location: Seminary Park in Lake Geneva MAP/DIRECTIONS
Time: 10:30AM Sharp
There will be raffle prizes following the hunt
The age groups are 0-2 (with or without help), 3-4, 5-7, and 8-10
Jaycees members hide over 3000 eggs in the park for the kids.   Eggs are filled with candy and gifts,   and there's special prize eggs for each age group!     The Easter Bunny will be making a surprise visit as well!!!
In the event of SNOW or other inclement weather the Easter Egg Hunt will be held at the Lake Geneva YMCA on Wells Street, next to Cluvers.