Thanksgiving Generosity 2009
Thanksgiving Generosity 2009
This years Thanksgiving Generosity more than doubled the size of the donations to the needy from the Lake Geneva Jaycees.  In total some $6000.00 in food was given to both the Lake Geneva Food Pantry and the WC Family Resource Center and Food Pantry. Here is a brief list of the items the Jaycees were able to provide this year: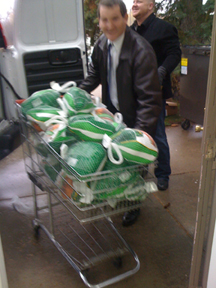 108 Turkeys
40 Cases of Turkey Stuffing
20 Cases of Green Beans
20 Cases of Cranberry Sauce
20 Cases of Cut Yams
20 Cases of Turkey Gravy
20 Case of Mashed Potatoes
With this years donation, the Jaycees not only doubled their donation amount and volume, but added a second food pantry.  Thanks to the help of our community, friends, family, businesses, and all the hard working Lake Geneva Jaycees, even in the midst of one of the worst economies in modern times, we were able to double our donation efforts.  With luck and more hard work, we really hope to be able to continue to provide the help and service our community needs for years to come. 
In addition to the Thanksgiving Dinner's donated, the Jaycees also donated $1000 worth of $25 Gift Certificates to Stinebrink's Piggly Wiggly so needy families could get any other additional last minute Thanksgiving Food Items.  And that's not all.  The Lake Geneva Jaycees also donated two pigs and the processing fees for both pigs to both food pantries.
2009 marked the 47th year for Venetian Festival and the Lake Geneva Jaycees.  It is through the hard work and efforts that take place at Venetian Festival and other Jaycee fundraisers that allow us to remain one of the largest community service groups in the Lakes Area.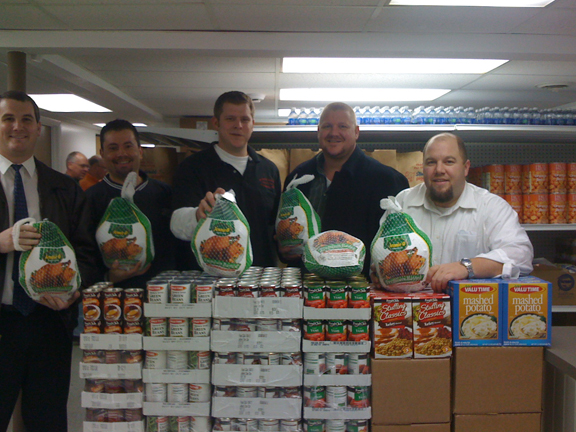 Pictured from left to right.  Ryan Stelzer, President Jeremy Kinsey, Luke Spiegelhoff, Craig Evans, Matt Stinebrink