Jaycees Neighborhood Watch Donation
Jaycees Donation to Neighborhood Watch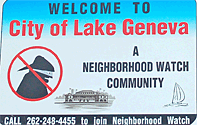 The 2008-2009 Board and General Membership approved a sizable donation to fund the Neighborhood Watch Program in the City of Lake Geneva.   Working in conjunction with the City of Lake Geneva Police Department, concerned residents and the Central Denison School's PTO, much needed funding to get the program off the ground was secured.   With the Jacyees Donation several signs were purchased to place in problem areas around the city.   Several larger signs were placed at the entrances to the city at Hiways 50, 120 and Wrigley Drive.
Your local home town Lake Geneva Jaycees were proud to have made such a great contribution.   Due to the cooperation and sponsorship of programs like these, the Jaycees hope to continue to keep our community a safe and pleasant place to live, work and play!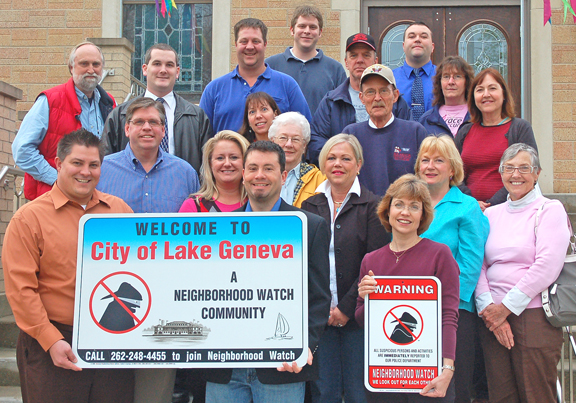 From the Jaycees Pictured holding the Welcome Sign from the left, Past President David Broaden, Incoming President Jeremy Kinsey.   Top left to right, Ryan Stelzer, Jason Eck, and Luke Spieglhoff.   Photo by Lisa Seiser – "Lake Geneva Regional News".