May 2008 LGJC News Letter Volume 1 Issue 1
Twyning Times – Jaycee Regional News (May 2008)
Interesting fact: The most Jaeger that has ever been in Champs happened ….after the Installation Banquet!
(A huge thanks again to our Past Prez. – Raymie and his lovely wife Jaime for the 20 bottles of green hulk.)
Next General Meeting: May 14th -7:30pm @ Harbor Shores
Next Board Meeting: May 28th – 7:30pm @ David Broaden's house
Dearest Jaycees,
I, Rob Twyning, was the Secretary two years ago and came out of retirement to help deliver the news to you. Part of the duties of the Secretary are to spread rumors, make jokes and 'fun' puns at individuals, and to get the information to you in a silly factual type of newsletter. Throughout the next 11 newsletters, we will begin to establish a 'template' through the website. This month approached too quickly and my sincere apologies but we will transform this letter into a .pdf link to the website. I am hearing and feeling the energy or presence of the Lake Geneva Jaycee Chapter at the State level and getting 'hits' around the Nation from our impact on the local community. This can be felt on the www.lakegenevajaycees.org site with more and more Crafters (Venetian Fest) finding us and groups wanting to know "how do we make money for fundraisers?" and "how cool is your park statue….3 Graces!"
Old News: (just recapping on an excellent job from the past secretary Ryan Fritz for last year's help with writing the newsletter….thank you Fritz!)
– Easter Egg Hunt YMCA Jaycee gym indoors egg hunt
– Big Ticket Bingo $9000+ raised – big thanks to Eck
– Admirals – Brett Michaels 9000 memories lost from drinking
– Roostering One funny night
– Elections Please 'welcome' the new Board.
– Current President – David Broaden
– Internal V.P. – Ryan Stelzer
– External V.P. – David 'Pedro' Jacobsen (Happy Cinco de Mayo!)
– Treasurer – Dan Brenton
– Secretary – Rob Twyning
– State Director – Jayson DeLange
– Directors – Chad Bittner – John Bouhl – Jason Eck – Jeremy Kinsey- Matt Kuehl
Interesting Fact: Wrigley sold out to Mars for $23 Billion dollars last week for 'joint development' of gas station treats. Look out for fruit-flavored candy bars, more mint flavored candies, and Juicy Fruit beverages. If the Wrigley family donated 0.0000000021% of their families pocket change, this would equal our annual raisings. I will work on that a.s.a.p.
News that Matters:
The Joint Board Meeting was held at Buntrock's Bonecracker Pad and we actually held the longest new President's 1st meeting….just over 3 hours. Afterwards, we held a pre-Venetian meeting run by Fatts to get this year off to a great start.
What did we learn from the meeting and expect to vote on at the General?
– The Police Dept would like another Pepper Ball gun because they already have a Salt Shaker bazooka. All of the Lion's corn will now have ample condiments and J.W. has also been volunteered as a demo dummy to test that both work well under pressure with 2 coats of butter.
– 'Beat the Heat' is looking for a donation to pay for more tires & fuel so that they can burn rubber and catch the High-schoolers that beat them.
– Legion Baseball is looking for more balls and a small donation
– Leadership Dynamics has one 'very recommended' resume – Kristine W.
– Alzheimer's Donation Request
– It was something like 404 walkers raising $56K with the Jaycees sponsoring a H20 stop, cooking 400 hotdogs, and a walking team!
– YMCA is looking for their 2nd payment in our 10 year donation of $6K/yr.
– VIP is looking for their 2nd payment in our 5 year donation of $2K/year.
May Happenings:
Installation Banquet
Ohhhhh what a wonderful time again to tis the season to the new Board. The Jaycees held a phenomenal party once again with a great dinner, boat cruise, Jaeger all around, and prizes for the top winners at the casino. Newly elected President David Broaden swore in his new council that has pledged to work hard over the next 12 months in growing membership, order in the court, and to raise more money in order to grow our givings to the community in which we reside. Please welcome the new Board.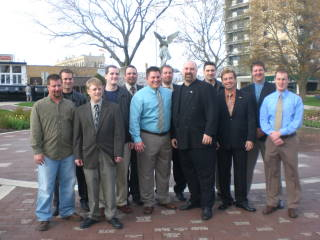 We look good, we feel good, and we are good. We are good people in the Jaycees.
Awards:
Not all of the following individuals could be there that night (below) but we would like to give all of them a 'huge' round of stand ovation for their contributions. Without the help of roostered or lifetime individuals, the current Board would not have a sound structure in which to build on and we thank you for that foundation.
Rooster'd Lifetime Achievement Lifetime Achievement
Pat Martin Kenny Johnson
Jeff Buntrock
Jaycee of the Year Rookie of the Year
David Broaden Jeremy Kinsey
Jaycee of the Quarter
Brian (Blossom) Olson Jayson DeLange
JW Hyndman Jason Eck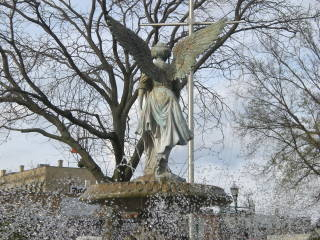 I did overhear The Ker saying, "hey winged Angel, I had a 3-some with the 3 Graces fountain and I'm really getting excited looking at your copper hard buttock and those little petering fountains around you. You've been dry all winter and how about getting wet this Spring?" I think Ker did NOT know what do with the wings.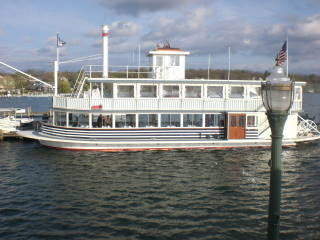 A great night for a boat cruise….we always get storm clouds and sunshine!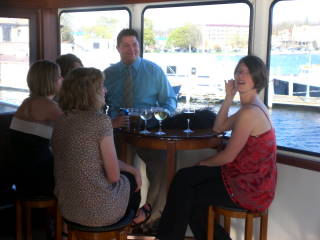 President David Broaden always has women around him, full glasses of vino, and a big smile 24/7. Hot diggity doggy!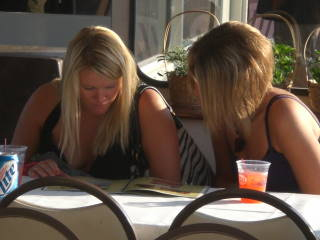 "My brother gets sooo mad that the Jaycee guys think I'm sooo good looking. This booklet that Raymie and Jaime made is sooo good. A lot of these guys are just sooo good looking. I am sooo glad we have tans on this boat too." 😉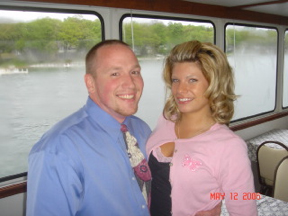 "Uncle Hefner let me borrow the H2 tonight and look what I found in the trunk!"
(I brought this picture out of retirement……recapping on 'I'm innocent!'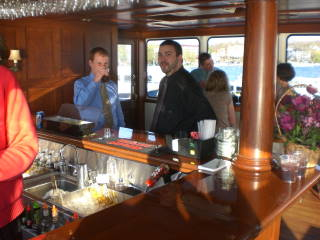 Black Dan and Fritz enjoying a beverage at the open bar all night……that's why we all felt like a horse's shoe in a muddy soggy environment all Sunday.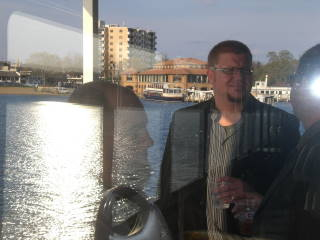 We did miss the prayer this year from Moses since he was not onboard but I felt his presence through Fatts all the same through my camera. Let us pray, "Oh Heavenly Father, your guiding light, your parting of the Red Sea, and Fatts' righteous guidance through General Meetings and Venetian Fest has brought us closer together through your powers. We thank you for good health, a dry Venetian Fest this year, and the excellent food this evening. Amen."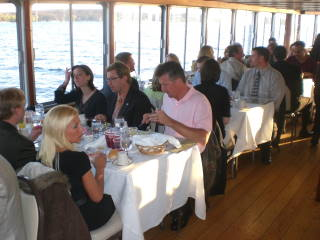 "I am thinking of getting on that microphone later this evening and telling all of these people that I have pubic hairs. I am older than 18. I have a child. I am not a child. I am a woman and I have pubes!" -almost direct quote. Thanks John.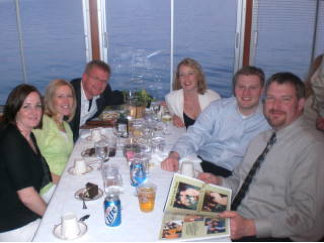 We are all friends and reunited over a good dinner.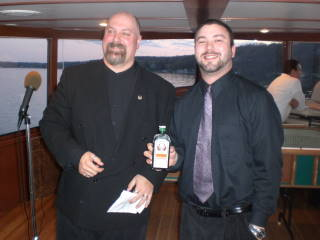 With trade-mark in hand…….and a pink sunset.

To my beloved brethren Kenneth, Lifetime Jaycee Award. Congrats KJ!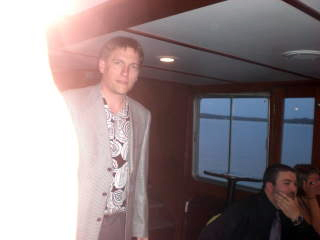 And to my other beloved brethren Jeff, Lifetime Jaycee Award. Congrats Doc!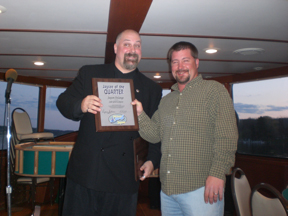 Way to step up to plate Jayson as the Jaycee of the Quarter. Fishing and derbies do lead to future growth as well as small fish and big tails (tales).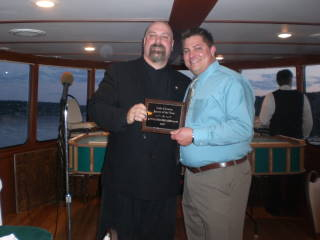 "To my friend with all of the support you gave me during 2007-08." Congrats on receiving the Jaycee of the Year Award for 2007-2008. Mr. David Broaden!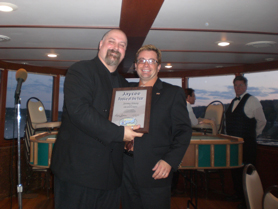 "No, you may not take the microphone but thank you for your google quality attributes to our website." Congrats to Jeremy Kinsey on Rookie of the Year!


"Now you promise to take over like my son and to prosper where prosperity is needed most in this club….right? If not, then the Darkside and myself will avenge."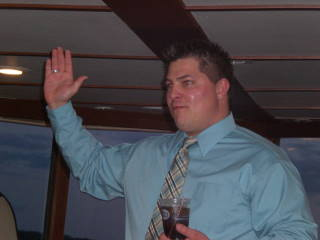 "I soberly swear to uphold the governing laws while I am President!"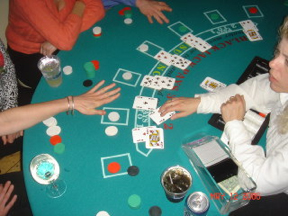 The tables were 'hot' for craps players and Blackjack players alike. Doc was the winner of the night with $67,000! Congrats Doc. Fatts is still sorry that he could not allow multiple prizes per winner so more people received winnings.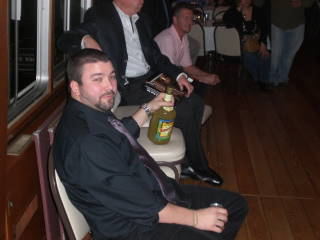 "I just wanna go to Hogs so I can drink and I am a Blackjack winner!"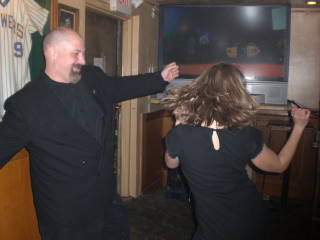 "Baby, twist and shout…..throw that hair, move them hips, and I have an unlimited supply of licorice juice in my private fridge. I am the Champion at Champs!"
Upcoming Events to Attend:
May 7th – City of Lake Geneva Fireworks review
May 5th, 14th, 19th, 28th – Senior Projects Review
May 10th – Sandbox Fill (potentially cancelled….no boxes to fill)
May 14th -General Meeting
May 17th – TreadFest II through Guido at the Grand Geneva
May 28th – Board Meeting at David Broaden's house 7:30pm
?????? Canoe Float Social at Eck's watering hole
June 11th – General Meeting
June 16-June 27th – Safety Town at the LG Middle School
Requests:
One of the great requests from our new President is to 'litter with history' the website with old photos of Jaycees so that we can build an 'archival database' of past members and their accomplishments. This unites the past, present, and future members and may even bring more inter-galactic members to Earth.
o If you have an old photo, we would like to scan it. Emailing has only been around for a short time but if you have a photo……please forward to Jeremy Kinsey, myself, or some active member with a good internet connection!
Sincerely,
Your friendly reporter and happy to bring the news to you. Any comments or words of wisdom you would like to include for the next newsletter are always welcome.
Rob Twyning