Easter Egg Hunt Making and Impact!
Easter Egg Hunt 2008 Moves Indoors!
Lake Geneva, WI.
Every year the Lake Geneva Jaycees holds an Easter Egg Hunt for children from toddlers to grade schoolers. The event is typically held the Saturday before Easter Sunday in Seminary Park in beautiful downtown Lake Geneva. However for the first time since many a Jaycee can remember, not only did Easter come early, but someone forgot to tell mother nature that Winter was supposed to be over. Nearly one foot of snow fell on Lake Geneva the Friday before this years hunt. This is where Jaycee member thinking and innovation really shines!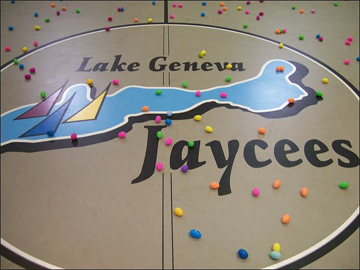 As luck would have it, the Lake Geneva Jaycees had recently donated the necessary funds for the Lake Geneva YMCA's new gym floor. That floor made for perfect indoor Easter Egg Hunt location. How fitting it was that the Lake Geneva Jaycees were able to christen their new floor by hosting this years Easter Egg Hunt in the Lake Geneva Jaycees Gym.
Now, a little more about the hunt. Each year several Jaycees, young and old get together and fill Easter Eggs. Generally around 3,000 or so eggs are filled with love and care, and of course yummy goodies. These eggs, along with donated gifts and prizes from area businesses, as well as the Jaycees are taken by another group of Jaycees who hide the eggs and handle awarding prizes. There are four age group brackets ranging in 0-2, 3-4, and so on. Amongst the candy filled eggs are also some carefully hidden numbered eggs which, when found are redeemable for fabulous gifts and prizes.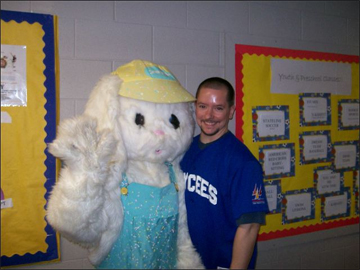 The Lake Geneva Jaycees have seen a great turn out for this event each year, and are so happy to fill so many children's lives with joy and fun! The Lake Geneva Jaycees are even able to get the Easter Bunny to show up at our event. If it snows again next year? You know where you'll find us!
You can learn more about the Lake Geneva Jaycees annual Easter Egg Hunt at their web site here: https://www.lakegenevajaycees.org/easter-egg-hunt.html
Video Coverage of this event is located at: https://www.lakegenevajaycees.org/latest-news.html