Easter Egg Hunt 2008 a Success
2008 Lake Geneva Jaycees Easter Egg Hunt!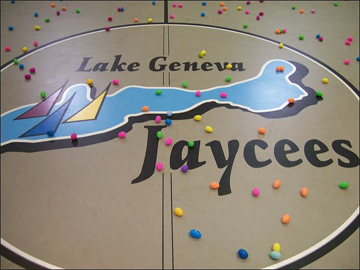 Despite the unseasonably long winter, and nearly 1 foot Spring snow fall in Lake Geneva just a day earlier, the Lake Geneva Jaycees 2008 Easter Egg Hunt went off without a hitch. Due to the weather we held the hunt inside the Lake Geneva YMCA for the first time in several years. It was truly fitting however to hold this event at the Y, because it gave our big family of Jaycees and little Egg Hunters a chance to find lots of goodies on the brand New Lake Geneva Jaycee Gym Floor!
Thanks again to all who participated and helped this year, from stuffing over 3000 little plastic eggs, to hiding them!
For more pictures and video from this event, please click here.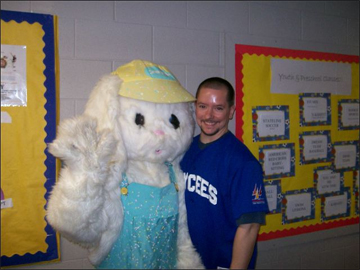 The Lake Geneva Jaycees would like to thank all of our donors for donating the prizes for the Egg Hunt, Raffle, and other great prizes that were given away. A special thanks the YMCA and their staff for allowing us to have the hunt indoors the warm dry Y!
We hope you will all join us next year where we will hopefully have a warmer, drying spring!
Make sure and see all the pictures and video from this event, here.