We have built parks, playgrounds, hospitals, ball fields, and housing for the elderly while conducting service and support programs in thousands of communities nationwide. Come join us  today!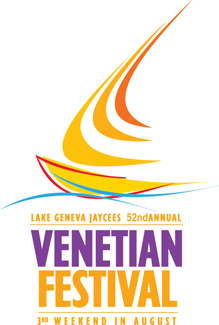 2014 VENETIAN FESTIVAL 52nd Annual
Created by and Sponsored by Lake Geneva Jaycees - since 1962
Days of Operation
August 13th through August 17th, 2014
Wednesday - Friday 5pm to Midnight.
Saturday & Sunday Noon to Midnight.
Location: Flat Iron, Seminary and Library Parks - Lake Geneva, WI.

Lake Geneva Jaycees Facebook Page
To Purchase Venetian Festival 50th Anniversary Posters click here.
---
Bands | Beer Tent | Craft Fair | Brat Stand | Carnival | Water Ski Show | Fireworks | Boat Parade | About | Contact
---
Entertainment Schedule (SHOW TIMES/INFO SUBJECT TO CHANGE )
Band submissions for 2014 are CLOSED. Submissions for 2015 Venetian Festival will open January 2015.
(All Shows Located in the Jaycees Entertiament Pavilion "Beer Tent" - Must be 21 to enter - WE ID!!!)
Wednesday August 13

8PM-12AM OPENING NIGHT

"BELLA CAIN"
www.bellacain.com

($5 Cover Charge at the door)

Sponsored by


Bella Cain is a newly formed, young, high-energy 6-Piece Top 40 Country Group that along with the Bella Girls deliver a non-stop and explosive performance to every show! With a "Big" guitar sound, they also bring 5 part harmonies, fiddle, steel guitar, piano, banjo, a solid rhythm section and both male/female vocals to the stage delivering a full and dramatic sound unmatched regionally. While based out of Wisconsin and performing the hottest new Country Music on radio today, some age old favorites as well as a few other tricks up their sleeve, Bella Cain is winning the hearts of fans all over the Midwest.

 
 

Thursday August 14

8PM-12AM RETRO NIGHT

"CHERRY PIE"
www.cherrypie.org

($5 Cover Charge at the door)

Sponsored by


"Out of the arenas of the 80's comes the music that rocked your world. Wisconsin's own CHERRY PIE recreates that sound with all the extravagance of the era. Their show is BIG - with ultimate lights, fog, theatrics and explosions along with outstanding musicianship, tight-fitting clothes and, of course, plenty of hairspray.

Be sure to bring your lighters because these five strapping young men provide enough energy, charisma, sex-appeal and humor to take you to another place and time. You'll dance to monster hits, rock to memorable "Big Hair" pop-metal and get cozy with that special someone to the greatest power ballads of all time.

CHERRY PIE brings it all alive with credibility and style. It's like experiencing a concert by Def Leppard, Whitesnake, Warrant and Bon Jovi - All at the same time!"


 
 

Friday August 15

8PM-12AM

"THE TOYS"

($5 Cover Charge at the door)

Sponsored by

What makes a band a good one is what you see on stage every weekend. How they sing like the CD. How they remind you of your younger days. Do that amazing solo or hit that killer fill. How they make you forget how bad of a week you just had. Local music does all those things. Bands like the Toys are our escape.

The Toys keep evolving and you will hear a couple new songs on stage this year, but... The Toys are the same band that reminds you that you are young again. That will have you raising your drink to a Styx song. Have you jumping into your best friend screaming lyrics to that Bon Jovi & Def Leppard song. The party will always go on. The Toys will always be one of those reasons why. Voted #1 Party Rock Band in the Midwest for the 3rd year in a row. Audiences have enjoyed The Toys explosive and energetic rock pop sounds for over 15 years. Thank You all for your support in The TOYS!
 
 

Saturday August 16

12PM-4PM DAY

"FRESH HOPS BAND"

(No Cover Charge)

Sponsored by

 

A quartet hailing from Northwest Indiana with over 500 shows under their young belts, Fresh Hops' sound has evolved at the same rapid pace as their fan base has grown. Through their four years as a band, these are guys who have always strived for being a well-oiled roadshow. Putting elastic, unpretentious fun at the core each time they take the stage, you get a different outcome depending on the stew of innovative originals and non-cookie-cutter takes on covers that the band chooses to be appropriate for that particular set. Their realization that jazz, classic soul, bluegrass, classical, metal and progressive jam rock can all shake hands and play nice has guided them to create remarkable tunes from an ever-expanding palette.

 
 
 

Saturday August 16

12PM-3PM DAY

"Baggo Tournament"

 
 

Saturday August 16

8PM-12AM NIGHT

"TOO WHITE CREW"

($5 Cover Charge at the door)

Sponsored by

There is simply no band anywhere like the Too White Crew. It is a tribute to the golden era of hip hop, featuring all-live music (no tracks) from a six piece band, accompanied by choreographed "Fly Girl" dancers. It's a party band – it's a show – it's art – it's madness on stage — all packaged in an unprecedented way. TWC has opened for countless hip hop & pop legends and is the only band in the past decade to perform at the Playboy Mansion. Too White Crew's nationally-touring show is also one of the top-requested festival acts.

 
 

Sunday August 17

12PM-3PM DAY

"Lake Geneva House of Music"

www.lakegenevahouseofmusic.com

(No Cover Charge)

Sponsored by

The Lake Geneva House of Music is the number one choice for performance-based music schools in the Geneva Lakes area.


 



 
 

Sunday August 17

8PM-12AM NIGHT

"Megan Ruger"

($5 Cover Charge at the door)

Sponsored by

Megan Rüger, a Wisconsin native, began her music career at age seven, singing in local fairs and talent contests. By age 16 she was opening for national acts such as ZZ Top, Lynyrd Skynyrd, Darryl Worley and Rascal Flatts. Singing the national anthem for the Milwaukee Brewers and Country Thunder USA ( Twin Lakes , WI.) for six years straight, made her an artist in high demand. Moving to Nashville to further her career, she was discovered by American Idol and made it to the Hollywood semi finals, knocking them dead with music from Three Dog Night to Nazareth. When not in the studio, Megan is a regular Nashville performer, having shared stage along side musicians from bands such as Kellie Pickler, Lorrie Morgan, Lynyrd Skynyrd and Gavin Degraw.
 
Megan and her band play music from 80's, 90's, and today as well as her original music. She just recently was on Team Blake on this season of The Voice. (Season 6)

 
 
 
 
 
 
 
 
 
 
---
---

Beer Tent Hours

The Lake Geneva Beer Tent is open Wednesday - Friday 5pm to Midnight. Saturday & Sunday Noon to Midnight.
Currently serving the following fine Beverages from our Sponsor Beachwood (Budweiser)
Budweiser, Bud Light, Bud Light Lime
Spotted Cow, Totally Naked
Guinness, Sprecher's Hefe Weis
Shocktop Lemon Shandy, New Belgium Fat Tire
Woodchuck Cider, Lagunitas IPA, Geneva Lake Blonde
Bud Light Lime-a-rita and Razber-rita
Monster ABS 0, Monster Rehab Pink Lemonade
Non Alcoholic (Odouls) beverages available as well
Beverages may be purchased in the beer tent only with Tokens. Tokens are available in the beer tent.

*Price and Availability subject to change.

---
Date: Saturday August 16th and Sunday August 17th
Hours: Sat 10AM - 5PM, Sun 10AM - 4PM
Location: Library Park - Lake Geneva Lake Front Main Street - Hwy 50 West
Exhibitors: 110
Admission: FREE
For more information about the Craft Fair or if you are a Vendor please visit our Craft Fair Information site here
---
---
Sponsored by Pody Door
Date: Saturday August 16th and Sunday August 17th
Hours: 10AM-4PM Sat and Sun & 8PM-10PM Sunday
Location: Library Park - Lake Geneva Lake Front Main Street - Hwy 50 West
Brats, Soda, Water, Chip, Pretzels and Candy
---

Carnival Information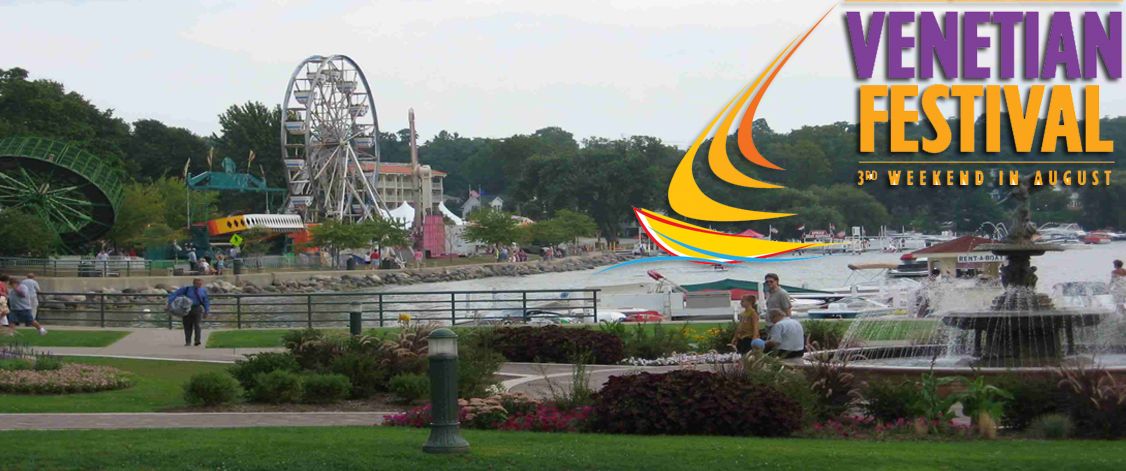 Date: August 13th through August 17th
Hours: Wednesday - Thursday 5PM to 10:30PM. Friday 5PM to 11:30PM. Saturday Noon till 11:30PM. Sunday Noon till 10:30PM
Location: Flat Iron Park and Seminary Park
Ride Specials: $20 "wristbands" Wednesday & Thursday 5PM-10PM and Saturday Noon to 5PM
Carnival Operator: Mr. Ed's Magical Midways, LLC.
---

Water Ski Show
Information
Wonder Lake Ski Team
Date: Sunday August 17th
Hours: Starts at 6PM
Location: Geneva Lake Front by Library Park & The Riviera
Sponsored by Harbor Shores on Lake Geneva

---
---


Sponsored by The Lake Geneva Jaycees, City of Lake Geneva, and Fireworks Sponsors

The Annual Lake Geneva Jaycees Fireworks display begins promptly at 9PM (Sundown) on August 17th. Fireworks are shot off in Geneva Bay, downtown Lake Geneva and can be viewed from Library Park, the Lake Front, Riviera Beach, and Flat Iron Park in down town Lake Geneva. Too make a Donation to this years Fireworks Display click here.

(photo by Terry Mayer printed with permission Community Shoppers CSI Media)
FIREWORKS SPONSORS:
| | | |
| --- | --- | --- |
|   |   |   |
| | |   |
|   |   |   |
|  Steinke Funeral Home | |   |
---

Boat Parade Information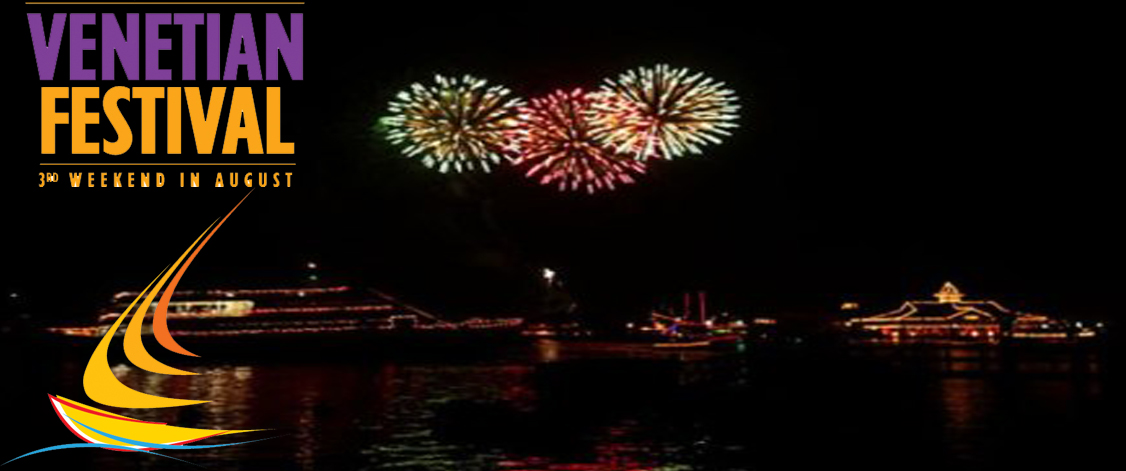 The boat parade is held on Sunday night August 17th on Geneva Lake right in front of Library Park in Lake Geneva and the Riviera. The lighted boat parade starts right at dusk with a fireworks display after that. This years theme is Americana. If you need anymore information please contact Harold Friestad at Gage Marine 262.248.5642
---
---

Most area hotels should have a shuttle, or may be in short walking distance from the festival. Below is a list of taxi's, trolley's and limousine services in the area.
Trolley of Lake Geneva
1050 Carey St
Lake Geneva, WI 53147
(262) 248-8304

Lakes Area Taxi
112 South 4th Street,
Delavan, WI 53115-1802
(262) 248-4770

A1 Limousine
(262) 245-1400

Senior Cab & Event Shuttle Services
W3099 Krueger Rd
Lake Geneva, WI 53147-2760
(262) 949-8294
---
---

Lodging Information
The Harbor Shores of Lake Geneva
http://harborshoreslg.com
300 Wrigley Drive
Lake Geneva, Wisconsin 53147
Phone: 262-248-9181
Reservations: 888-746-7371 (888-SHORES1)
Please visit the Lake Geneva Chamber of Commerce
Phone: 262-248-4416
Toll-Free: (800) 345-1020
Fax: 262-248-1000
E-mail: This e-mail address is being protected from spambots. You need JavaScript enabled to view it
---

Venetian Festival
Co-Chairman

& Advertising Director

Ryan Stelzer

(262)215-9112
This e-mail address is being protected from spambots. You need JavaScript enabled to view it
Venetian Festival Co-Chairman
Craig Evans

(815)703-6080
This e-mail address is being protected from spambots. You need JavaScript enabled to view it
Venetian Festival Boat Parade Chairman
David Broaden
(262) 818-5666
This e-mail address is being protected from spambots. You need JavaScript enabled to view it
Venetian Festival Entertainment Director
Chad Bittner WE ARE CURRENTLY ACCEPTING SUBMISSIONS FOR BANDS FOR
2014
This e-mail address is being protected from spambots. You need JavaScript enabled to view it
Craft Fair Information
Ben Conley
This e-mail address is being protected from spambots. You need JavaScript enabled to view it or click
here


Venetian Festival Webmaster
Jeremy Kinsey
This e-mail address is being protected from spambots. You need JavaScript enabled to view it
Jaycees President

Sean Levitt
262-960-2899

This e-mail address is being protected from spambots. You need JavaScript enabled to view it
For more information About Venetian Festival, click here
Last Updated ( Tuesday, 22 July 2014 11:13 )