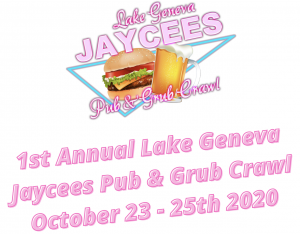 Come enjoy some of Lake Geneva's finest Restaurants and Pubs while we raise money for a number of different community charities.
The Jaycees will be selling wristbands for $25 each with 5 drink/food tokens to be redeemed at the following establishments. Join us for the weekend and stay with one of our local participating hotels. Each location will be posting a special menu for the event.
Bar & Restaurant Menus
Next Door Pub Menu

1-TICKET

● Any bottle or draft beer (some exclusions apply)
● The Pub's signature Drink Wisconsinably Old Fashioned
● Glass of house wine(FOOD)
● Wonton Mozzarella Sticks
● The Pub's Famous Cheese Curds
● Pub's Cheesy Bread
● 9 Inch 1 topping pizza
● Any Kids Meal

2-TICKETS

● Pub's 1lb Jumbo Bavarian Pretzel
● 20 Signature Wings
● Our Famous Lasagna

Oak Fire Menu

1-TICKET

● Woodfired bread
● Bruschetta
● Angioletti
● New Glarus Spotted Cow
● Old Fashioned Bourbon

1-TICKET

● Bloody Mary mimosas

● Merry Mules

● Select Wines

● Seipp's Beer

Sprecher's Menu

1-TICKET (Tickets valid for dine-in only)

● Any draft beer or tall boy can (excludes White Claw)
● Glass of House Wine
● Absolut & Jameson Mixers
● Cheese Curds
● Any Dessert
● Any kids meal

2-TICKETS (Tickets valid for dine-in only)

● 1 lb. Bone-In Wings
● Bavarian Pretzels
● Mac N' Cheese w/Chicken

Flat Iron Tap Menu

1-TICKET

● Bavarian Pretzel
● Fried Brussel Sprouts
● Cantina Cheese Dip
● Fried Portobello Steaks
● Spotted Cow
● Hacker Pschorr Octoberfest
● Kentucky Vanilla Barrel

2-TICKETS

● "The Graceland" Pulled Pork Sandwich
● "The Van Halen" Smoked Brisket Sandwich
● Devanco Italian Beef Sandwich
● "The John Daily" Drunken Cheeseburger
● ½ LB Smoked Wings

Champs Menu

1-TICKET

● Any Tap Beer
● Bowl of Chili or Soup

(Live entertainment Friday night, DJ Saturday night)

Barrique bistro & wine bar Menu

1-TICKET

● 3-Type Wine Flight
● Beer-Cheese Soup
● Chili
● Seafood Bisque

2-TICKET

● Bruschetta
● Goat Cheese Crostina

3-TICKET

● Half Dozen Oysters

Mars Resort Menu

1-TICKET

● Tito's Mixers

2-TICKETS

● Hamburger and a Draft Beer

5-TICKETS

● Full Slab Rib Dinner and a Tito's Mixer

Topsy Turvy Menu

1-TICKET

● Harvest Ale

● Williams Bay Light Ale

 

Boat House Bar & Grill Menu

1-TICKET

● Any Beer

● House Wine

● Single Mixer

2-TICKETS

● Wisconsin Cheese Curds

● Fried Pickles

● Little Bavarian Pretzel

4-TICKETS

● Any 1-Topping Pizza

5-TICKETS

● 1/2 Rack Rib Dinner

Hogs & Kisses Menu

1-TICKET

● White Claw

● Angry Orchard

● Any Beer

● Tito's Mixer
PLEASE NOTE: Some locations may have different sales tax collection obligations depending on the policies and operations of their business. As a result, it is possible that some locations may charge you sales tax separately on discounted wristband items.
Participating Bars & Restaurants:
Next Door Pub, Champs, Mars Resort, Flat Iron Tap, Barrique, The Boat House, Topsy Turvy, Hogs & Kisses, Sprechers, Oakfire, The Bottle Shop
Participating Hotels:
Harbor Shores, Fairfield Inn, Comfort Suites, The Cove
You can sign up for the event and book your hotel reservation using the links below. If you have questions or need help, please email info@lakegenevajaycees.org. We appreciate your business and look forward to a successful event.
Please note: Those participating need to follow all state & local guidelines related to COVID-19 and stopping the spread.
Bracelets for the Pub & Grub Crawl will be available for purchase at each participating Restaurant, Bar or Pub the entire weekend!
Event Dates: Friday, October 23 thru Sunday October 25, 2020

Hotels offering your special group rate
---

Fairfield Inn & Suites Lake Geneva
---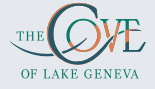 ---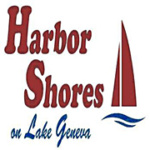 $149 per night – Group Code:PUBGRUB2020
---
$109 per night – Group Code: CS55K2 ($10 will be donated back to the Jaycees)
Participating Bars & Restaurants