Lake Geneva Jaycees donate to local Cheer Club
The Lake Geneva Jaycees are at it again in 2016!! The Jaycees donated $1000 to Bayside Athletics, so that they may provide scholarships for its cheer and tumbling classes.
The main purpose of the organization is to develop young athletes spiritually, mentally and physically through the sports of cheerleading and tumbling no matter what their social or financial situation.
The cheer and tumbling programs are developed for youth ages 3-18 and special needs athletes from age 5 to adult. They are proud to serve Walworth County and its surrounding areas. They hope to positively impact the athletes and their families through the sports of cheer & tumbling.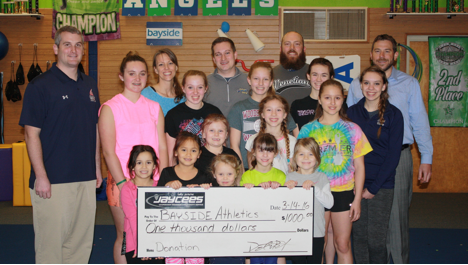 (Pictured back row – Ryan Stelzer, Jessica Viss Director of Bayside, Bryan Iwicki, Ryan Lasch and Josh Spiegelhoff front rows, youth of the Bayside Athletics program) The Jaycees are proud to be able to support this local program that serves youth of all ages and abilities.