The Lake Geneva Jaycees 20th Annual Venetian Festival Arts & Crafts Fair  is Saturday, August 16th and Sunday, August 17th, 2014 at Library Park.  For more information on how you can get your spot before its gone,  click here.  Booths start at just $125
Venetian Festival - Lake Geneva Jaycees
---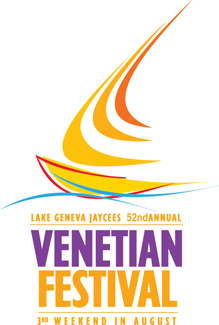 About Venetian Festival - sponsored by the Lake Geneva Jaycees
Celebrating 52 Years!
Venetian Festival takes place at Flat Iron Park in picturesque downtown Lake Geneva. Venetian is a five day festival featuring a carnival,
craft fair
, water ski show, musical entertainment, local cuisine, and the festival's traditional lighted boat parade followed by the areas largest fireworks display high above Geneva Lake.
---
Days of Operation
August 13th through August 17th, 2014
Wednesday - Friday 6pm to Midnight
Saturday & Sunday Noon to Midnight.
FIREWORKS DISPLAY SUNDAY AUGUST 18th at 9PM
For Current Festival Information, hours and entertainment schedules,
please visit our Venetian Web Site here http://VenetianFest.com
---
Bands | Beer Tent | Craft Fair | Brat Stand | Carnival | Water Ski Show | Fireworks | Boat Parade | Contact Us
---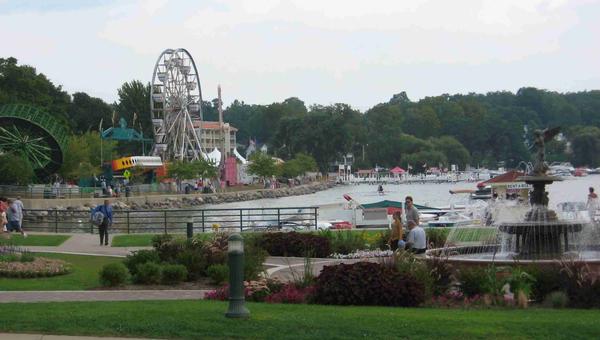 ---
Bands | Beer Tent | Craft Fair | Brat Stand | Carnival | Water Ski Show | Fireworks | Boat Parade | Contact Us
---
Venetian Festival History (52 YEARS)
Venetian Festival started by the Lake Geneva Jaycees in 1962 is an annual Festival that includes a Carnival, Craft Fair, Live Entertainment, great food and fun for people of all ages. Venetian Festival is the banner event for the Lake Geneva Jaycees Chapter. It represents the largest revenue generator for the club, the net profits of which all go back into our local community and organizations. As Venetian has grown over the years, so too have the donations from the Jaycees. Some of the organizations that continue to benefit from the proceeds derived from Venetian Festivals are:
The Lake Geneva Police Dept., The Lake Geneva Fire Dept., Lake Geneva YMCA, Badger High School Scholarships, Cub Scouts, United Way, and Big Brother's Big Sisters, Beat the Heat, VIP Services, Special Olympics Dream Team, WC Food Pantry, Lake Geneva Food Pantry, SIMPLE, Head Start, Lake Geneva Street Dept., just to name a few.
The event draws over 50,000 people throughout the five day festival, nearly 5 times the population of Lake Geneva. Visitors from all over the US attend regularly.
Created by and Sponsored by The Lake Geneva Jaycees.
Last Updated ( Wednesday, 26 March 2014 12:44 )